Was ist BigChange?
**Mit BigChange kannst du ein produktiveres, effizienteres und profitableres Serviceunternehmen führen.** Die Lösung ist ein 5-in-1-System für die Verwaltung von mobilem Personal und Aufträgen. Die Lösung verbindet dein Büro, mobiles Personal und deine Kundschaft. Die Lösung ersetzt manuelle Planung und Papierarbeit und ermöglicht deinem Team, von Anfang bis Ende einen außergewöhnlichen Service zu liefern. Erstelle Angebote, plane und erledige Arbeiten, stelle Rechnungen aus, nimm Zahlungen entgegen und verwalte jeden Schritt des Workflows in der mobilen Anwendung und verfolge deine Fahrzeuge und Ressourcen.
Wer verwendet BigChange?
BigChange wird in über 60 Branchen eingesetzt, darunter Außendienst, HLK, Installation, Transport und Logistik, Bau, Abfallwirtschaft, der öffentliche Sektor und Ausrüstungsverleih. Bitte BigChange um eine Fallstudie aus deinem Sektor.
Wo kann BigChange bereitgestellt werden?
Cloudbasiert
On-Premise (vor Ort)
---
Über den Anbieter
BigChange
Ansässig in Leeds, UK
2013 gegründet
Support für BigChange
Telefon-Support
24/7 Live-Support
Chat
Erhältlich in diesen Ländern
Frankreich, Neuseeland, Vereinigte Staaten, Vereinigtes Königreich, Zypern
Über den Anbieter
BigChange
Ansässig in Leeds, UK
2013 gegründet
Support für BigChange
Telefon-Support
24/7 Live-Support
Chat
Erhältlich in diesen Ländern
Frankreich, Neuseeland, Vereinigte Staaten, Vereinigtes Königreich, Zypern
BigChange – Videos und Bilder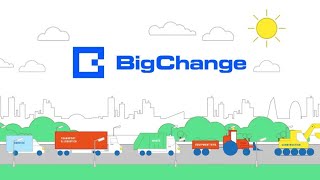 Kosten ähnlicher Produkte wie BigChange vergleichen
BigChange Funktionen
Abrechnung & Rechnungsstellung
Aktivitäts-Dashboard
Aktivitäts-Verfolgung
Angebote / Schätzungen
Anlagegegenstand-Management
Anpassbare Vorlagen
Arbeitsauftragserstellung
Arbeitsauftragsverwaltung
Aufgabenmanagement
Auftragnehmer-Datenbank
Auftragnehmer-Management
Auftragskostenrechnung
Ausfallzeit-Management
Automatisierte Terminplanung
Barcode / Tickets scannen
Bedarfsplanung
Berichterstattung / Analyse
Berichterstattung und Statistik
Berichtsvorlagen
Bestandskontrolle
Bestell-Management
Budgetierung/Prognosen
CRM
Code-Durchführung
Compliance Management
Compliance-Verfolgung
Corrective and Preventive Action (CAPA)
Dokumentenmanagement
Dokumentenspeicher
Drittanbieter-Integration
Echtzeit-Aktualisierungen
Echtzeit-Benachrichtigungen
Echtzeit-Planung
Elektronische Unterschrift
Elektronische Zahlungen
Erinnerungen
Fahrer-Management
Flottenmanagement
Fähigkeiten-Nachverfolgung
Für HLK-Unternehmen
Für Hausmeisterdienste
Für Schlosser
Für Schädlingsbekämpfungsunternehmen
Für gewerbl. & industr. Elektroinstallateure
Für mechanische Ausrüstung
GPS
Gebot-Management
Geräte-Management
Gerätenachverfolgung
Inspektions-Management
Instandhaltungsmanagement
Integration in QuickBooks
Integration in die Buchhaltung
Inventarverwaltung
Job-Management
Job-Planung
Kalenderverwaltung
Kontakt-Datenbank
Kosten-Datenbank
Kostenschätzung
Kostenverfolgung
Kraftstoff-Management
Kreditplanung
Kundendatenbank
Kundendienst-Historie
Kundenhistorie
Kundenmanagement
Kundenportal
Leistungskennzahlen
Lieferanten-Management
Liefernachweis
Live-Ortung des Fahrers
Mehrere Standorte
Mitarbeiter-Datenbank
Mitarbeitereinsatzplanung
Mitarbeitermanagement
Mobile App
Mobile Benachrichtigungen
Mobile Unterschriftenerfassung
Mobiler Zugriff
Online-Buchung
Online-Zeiterfassung
Projekt-Nachverfolgung
Prädiktive Wartung
Qualifikations-Tracking
Qualitätsmanagement
Raumverwaltung
Rechnungsmanagement
Reservierungs-Management
Routenverlauf
Routing
SMS-Nachrichtenversand
Scanfunktion
Schädlings-Aktivitäten-Nachverfolgung
Schätzung
Self-Service Portal
Sendungsverfolgung
Sicherheitsmanagement
Standortverfolgung
Störfallmanagement
Subunternehmen-Management
Techniker-Management
Terminplanung
Terminverwaltung
Textnachrichtenversand
Timesheet Management
Umfragen & Feedback
VIN-Suche
Verfolgen von Vermögensanlagen
Verfolgung von Interaktionen
Verfügbarkeit-Management
Versandmanagement
Vertrags-/Lizenz-Management
Vorbeugende Wartung
Vorfall-Berichterstattung
Vorlagen-Management
Wartungsplanung
Zahlungsabwicklung
Zahlungseinzug im Außendienst
Zeit & Anwesenheit
Zeit & Kosten Verfolgung
Zeitverfolgung
Alternativen für BigChange
Bewertungen über BigChange
Tanya
Operations Manager
Verifizierter Nutzer auf LinkedIn
Hausmeisterservice, 51-200 Mitarbeiter
Verwendete die Software für: Mehr als 1 Jahr
Great Product
Untertitel auf Deutsch sind im Videoplayer verfügbar
Colin
Director in UK
Verifizierter Nutzer auf LinkedIn
Einzelhandel, 1 001-5 000 Mitarbeiter
Verwendete die Software für: Mehr als 2 Jahre
Working with Big Change
Kommentare: See less, it's like the solution has integrated well and forms part of our day to day operating model.
Vorteile:
I think the best element of this product is that's it very versatile as it allows you to design it around your current operation. Also the team are constantly releasing useful updates, some of which make life a little easier and some offer productivity gains.
Nachteile:
There nothing really that's bad here, any elements that were hare to navigate are constantly being updated to make them as user friendly as possible.
Antwort von BigChange
vor 2 Jahren
What a great review - we are thrilled to hear how pleased you are with your system and benefit from our regular new system updates. BigChange is indeed a very versatile system and we are happy to be part of your operating model. Thank you for choosing BigChange.
Bau, 11-50 Mitarbeiter
Verwendete die Software für: Mehr als 2 Jahre
In Betracht gezogene Alternativen:
Big Change Revolutionised My Business
Kommentare: I have dealt with all levels withing the business and found 99% of the people amazing to deal with! They have guided, trained and been far more accommodating then any other mobile resource software provider out there.
Vorteile:
The facility to invoice live and make cash flow through the business improve.
Nachteile:
The schedule does not have dynamic scheduling
Antwort von BigChange
vor 3 Jahren
Delighted to hear about your amazing experience with the BigChange system. We designed it to be 'Revolutionary' for everyone, for you the business owner, for your team for your customers and your cashflow. Nothing gives us more satisfaction than hearing great success stories like this. Thank you once again for taking the time to leave a review. All the best, Team BigChange
vicky
Office Manager in UK
Bau, 2-10 Mitarbeiter
Verwendete die Software für: 1-5 Monate
Big Change - Good System once you get the hang of it but hard to learn and quite time consuming.
Kommentare: I am feeling better about it now but initially this is very hard for anyone to set up within a business that has their own job that they also need to do. The short videos take forever as you need to rewatch, then you have your test and then you have to try and Implement what you have just watched. If you forget a part of it or it doesn't make sense you have to go back to the video again. Very Hard Work and Extremely time consuming. What would be better is that everything is set up in the back office by big change and then training is provided to the customer on how to use it.
Vorteile:
I like the Scheduling feature once the jobs are on. Very easy to schedule and reallocate jobs when you need to. I also like the Easy Views - This is one of the most helpful sections of the system.
Nachteile:
Having to create a Customer site (Child Company) for every new job you get and then creating a new job especially when you may never work at that site again. would be much easier quicker and convenient if you could free type the site address in. The training side of it I have to admit is awful. It has taken me so long to get where I am now and most of that has been my time sat playing around with the system - The training videos are too fast, it skips parts out or assumes you know where exactly you are meant to go on the system to do or find something, or it says this part will be covered in another module. A guide for logging a customer - Guide for Logging a Customer Site - A Guide for inputting a job - A Guide for raising an Invoice would be so much better than trying to watch a video take notes and then try and remember how to do it, Esp as customers are expected to input and set up everything virtually within the system. MAPS - It would be helpful if it would advise how many miles away the engineer is until he reaches his destination. JOBS / INVOICES - Once the Jobs or Invoices are complete you can't amend any of the details this is very annoying as you are having to duplicate everything and then save any pictures etc and worksheets and move them over to the next one. ALSO the description you type when raising the job. If you make a spelling mistake and the Job is complete you can't correct this field - This is then on the customers Invoice.
Antwort von BigChange
vor 2 Monaten
Hi Vicky, Thank you so much for taking the time to leave a detailed review. I am glad that you are making use of BigChange and if you need any further help please let me know and I can have your designated Customer Success representative can help. Many thanks Ian Burgess Chief Customer Officer [email protected] 07879 698697
Bau, 11-50 Mitarbeiter
Verwendete die Software für: Mehr als 1 Jahr
Quelle: SoftwareAdvice
If you are an existing company and you take on this product, expect a disappointing Big Change!!
Kommentare: You are expected to do all of the onboarding with little or no support.
My team are unimpressed with my decision to use Big Change and we have reverted back to our original CRM system Podio by Citrex a far superior product.
Vorteile:
Sales reps are likeable and extremely helpful. [SENSITIVE CONTENT] in customer services is a good guy but he must follow through on what he saw and understood when we asked him to come and visit us to see the issues we were having.
Nachteile:
The product is only fit for a one trade business- the sales reps will say yes to all your questions without ensuring their answers to be true Our IT engineer worked on the installation and onboarding full time and was not given the promised support from Big Change We lost three members of our team, who jointly made a major mistake due to failure of linking separate trades within our organisation. You will be charged for everything and there are extras on every turn you take.
Antwort von BigChange
letzten Monat
Hi Terry We also pride ourselves on honesty and integrity and I am familiar with some of the points you have raised to the team around some of the additional things you would like BigChange to be able to do. We are always keen to work with customers directly hence our visit to you and your teams back in March. It is important that we listen to customer and act and I am aware that after the meeting we offered to help document the items you mentioned in an improvement plan but that was not something you were keen on at the time. We have a large customer base who are getting incredible value from BigChange and we remain focused on helping all of our customers to gain more and more value from the platform. We would love to spend more time with you and your team and help you to get that value from BigChange to help your business. Many thanks Ian Burgess Chief Customer Officer
Hannah
Office Manager in UK
Sicherheit & Untersuchungen, 51-200 Mitarbeiter
Verwendete die Software für: Mehr als 1 Jahr
Apardion Review - August 2022
Kommentare: So far Big Change has helped us reduce our paper usage, allows our resources to provide more information for all jobs. Any changes to any reports can be carried out much easier as we used to use paper copies of reports. Big Change has helped us save a lot of time on a daily basis.
Vorteile:
System is suitable for many different types of jobs our company require on a daily basis. Schedule a job cannot be easier, likewise to edit a scheduled job is quick and simple.
Nachteile:
Can be rather difficult to set up CRM or jobs with many different settings, different features such as job types, job categories and templates are needed to set up a job, which can be time consuming or complicated for new users to remember.
Antwort von BigChange
vor 4 Wochen
Hi Hannah Thanks for leaving us such a great review, we value each one of them equally but its always wonderful to see our customers getting so much value from BigChange. Job scheduling is at the core of what we do so its great to see that its so easy to use and that the system has allowed you to reduce your paper usage. We are Big on sustainability and helping our customers to do the same is a key part of our product offering. Most importantly you are seeing the benefits of saving time every day and it's a pleasure for us to see our customers grow stronger using BigChange. If you would like any further help with the system, I would be happy to connect you with your Customer Success representative. Many thanks Ian Burgess Chief Customer Officer [email protected]