Was ist IntelliShift?
Als führender Fuhrparkmanagement- und Telematikanbieter für Unternehmen mit einer Flottengröße von mehr als 100 Assets bietet Silent Passenger eine skalierbare Software mit herausragender Unterstützung. Fahrzeugkonnektivität und datengesteuerte Einblicke ermöglichen es großen Flotten, konform zu bleiben, den Betrieb mit Vorhersageanalysen und nahtloser Integration in die gesamte Flotte und Organisation zu verbessern und Ergebnisse zum Nachweis der Investitionsrendite zu quantifizieren.
Wer verwendet IntelliShift?
Die Telematik-Softwarelösung Silent Passenger bietet Flotten von mehr als 100 Assets datengesteuerte Erkenntnisse basierend auf Vorhersageanalysen zur Verbesserung der Flottenintelligenz.
Wo kann IntelliShift bereitgestellt werden?
Cloud, SaaS, webbasiert, Mac (Desktop), Windows (Desktop), Linux (Desktop), Windows (On-Premise), Linux (On-Premise), Chromebook (Desktop), Android (mobil), iPhone (mobil), iPad (mobil)
Über den Anbieter
IntelliShift
Ansässig in Commack, USA
2002 gegründet
Telefon-Support
24/7 Live-Support
Chat
Erhältlich in diesen Ländern
Kanada, Vereinigte Staaten
Sprachen
Englisch, Spanisch
Über den Anbieter
IntelliShift
Ansässig in Commack, USA
2002 gegründet
Telefon-Support
24/7 Live-Support
Chat
Erhältlich in diesen Ländern
Kanada, Vereinigte Staaten
Sprachen
Englisch, Spanisch
IntelliShift – Videos und Bilder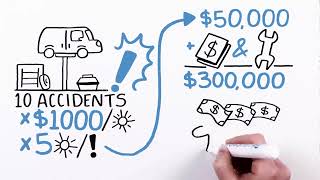 Kosten ähnlicher Produkte wie IntelliShift vergleichen
IntelliShift Funktionen
Abrechnung & Rechnungsstellung
Alarmfunktion / Benachrichtigungen
Arbeitsauftragsverwaltung
Auftragsmanagement
Barcode / Tickets scannen
Berichterstattung / Analyse
Berichtsvorlagen
Code-Durchführung
Corrective and Preventive Action (CAPA)
Drag-and-Drop
Echtzeit-Aktualisierungen
Echtzeitüberwachung
Fahrer-Management
Fahrtenbuch
Fahrzeug-Nachverfolgung
Fahrzeuginformationen
GPS
Garantie-Nachverfolgung
Geofencing
Geografische Karten
Geolokalisierung
Historische Berichte
Inspektions-Management
Instandhaltungsmanagement
Inventarverwaltung
Kostennachverfolgung
Kraftstoff-Management
Kraftstoff-Nachverfolgung
Kundendienst-Historie
Kundenmanagement
Leistungskennzahlen
Live-Ortung des Fahrers
Mitarbeitermanagement
Mobiler Zugriff
Reparatur-Nachverfolgung
Routenoptimierung
Routenverlauf
Routing
Scanfunktion
Sendungsverfolgung
Statusverfolgung
Terminplanung
Terminverwaltung
Transportmanagement
VIN-Suche
Verfolgen von Vermögensanlagen
Versandmanagement
Verwaltung von Einzelteilen
Vorbeugende Wartung
Vorfall-Berichterstattung
Wartungsplanung
Zwei-Wege-Kommunikation
Alternativen für IntelliShift
Bewertungen über IntelliShift
Christopher
Transportation Manager in USA
Verifizierter Nutzer auf LinkedIn
Essen & Trinken, 201-500 Mitarbeiter
Verwendete die Software für: Mehr als 2 Jahre
Do You Know Where Your Assets Are?
Kommentare: Very happy with the software and the system. Calls into the service desk are answered almost immediately.
Vorteile:
The ease of use makes Silent Passenger a great tool to track your vehicles, know where your drivers or salespeople, other company vehicles are. The maps have enabled our Dispatching Team give specific directions to drivers that were slightly lost and needed assistance finding the location. When a truck has broken down and the driver was unsure of his exact location we were able to tell Roadside exactly where the driver was.
Nachteile:
New York City tends to bounce the signal a bit more than it used to. There are some lags in the data.
Antwort von Vehicle Tracking Solutions
vor 4 Jahren
Thanks for the review, Christopher! We appreciate your feedback and are thrilled to hear that you are happy with Silent Passenger. We look forward to continuing to support your business in the future!
Michaela
Service Operations and IT Manager in USA
Maschinenbau oder Wirtschaftsingenieurwesen, 51-200 Mitarbeiter
Verwendete die Software für: Mehr als 1 Jahr
In Betracht gezogene Alternativen:
Great product for the price
Kommentare: Support and team are great. Great product, especially for the price. Better product than the big name competitor!
Vorteile:
Easy to integrate, fairly easy to use, gives a lot of information about your vehicle and driver right up front without having to dig too deep.
Nachteile:
The App could be better, it's a re-packaged version of the website that's mobile friendly. I have to login twice each day before it accepts my user credentials. Sometimes takes a minute to refresh. All little things, overall great product.
Antwort von VTS
letztes Jahr
Hi Michaela, Thank you for your feedback! We are happy to hear that you are satisfied with IntelliShift.
Öffentliche Sicherheit, 11-50 Mitarbeiter
Verwendete die Software für: 1-5 Monate
My last contract with this company
Kommentare: We are a Public Health Company, reducing infection and death rates of exotic viruses in multiple communities. We use the software to track our application amount and location.
Vorteile:
The program is user friendly. the user has many variables that can be used to create a report
Nachteile:
The time stamping is not correct. It will show 1 second for 30 second usage and shows 2 second usage for a minute and a half usage. We track application equipment usage. The past program was much easier. Under one minute it did not report a time. Now it reports seconds but no correlation to time. We tested the reported time against actual application time. The time is essentially useless, good attempt though. Times can still be extracted manually, it just takes more time. I recommend using the last software programming for time tracking. It was much easier when producing a report. Thank you
Antwort von VTS
letztes Jahr
Hi Paul, Thank you for your feedback. Here at IntelliShift, the success of our customers is at the heart of what we do. We are a customer-centric organization, so we take this feedback very seriously. We will have your account manager reach out to you to assist.
John
General Manager in USA
Verifizierter Nutzer auf LinkedIn
Verbraucherdienste, 51-200 Mitarbeiter
Verwendete die Software für: Mehr als 2 Jahre
Peace of Mind
Kommentare: We have been pleased with the software from
the start. We are always checking either the mobile app or the website to determine ETA's for crews to a site, or when the last crew out will get back to the yard in the afternoon. Our supervisors all have the mobile app on their phone or ipad. It has helped us make corrections to routes that have saved us time. It helps us communicate better with customers who want to know when we expect to be at a location. It has also been helpful in defending us when accused of damaging something, while working as part of a municipal or utility project. When Im able to produce a report showing the routes taken by our trucks, and that route is nowhere near the person claiming we scratched their car, the "it wasnt us!" defense becomes a lot more credible. We are happy with it and do not intend to change GPS service providers.
Vorteile:
This product has evolved quite a bit since we began using it around 2007, but it has always been very easy to use. The mobile app is very user-friendly, allowing the user to view a vehicle's location, determine ETA to a destination and then set a text or email alert to let the user know the vehicle has arrived. In the same manner, a vehicle can be viewed while on-site and an alert can be set up to let someone know when they have departed. The reports are very thorough and functional, letting us see the exact route someone took or how long they were at a particular location. I like how easy it is to use and how quickly one can learn how to find what they need in order to achieve great benefit from the software.
Nachteile:
It's hard to pick out a "con," exactly. I am able to accomplish everything I need using this software. Maybe having a "stay logged in" option on the app would save 1 second during the sign-in process. That's all I can think of.
Antwort von VTS
letztes Jahr
Hi John, Thank you for your review! We are thrilled to hear that you are happy with IntelliShift and that it has provided you with peace of mind.
Catalin
Owner in USA
Verifizierter Nutzer auf LinkedIn
Verwendete die Software für: Mehr als 2 Jahre
This is the best tracking solution for your vehicles!
Kommentare: Great tracking software.
Vorteile:
I am using them for a few years now, never failed, great software and i would say very affordable, i am using it for tracking our fleet, anywhere anytime, in real time almost. Wired devices only.
Nachteile:
Never used portable devices. in weekends, not much of customer service. No issues so far. I recommend it if you have a minimum 5 vehicles or growing fast.
Antwort von Vehicle Tracking Solutions
vor 5 Jahren
Thank you for the review Cata Black Car & Limousines! We value you as a customer, and look forward to many years of continued success with Silent Passenger as your fleet management and telematics software. Best, Silent Passenger Team